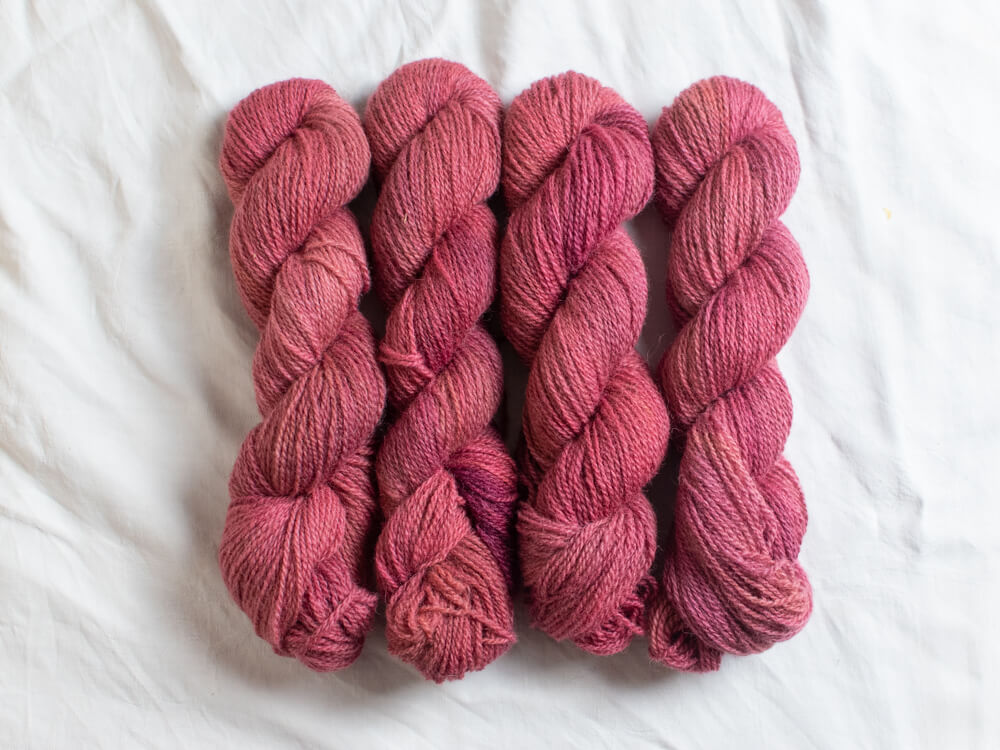 Winterberry – Mendip 4-Ply yarn (limited edition)
Winterberry is a semi-solid warm pinky red.
Mendip is a 4-ply yarn spun in the UK from wool from a single flock of Shetland-cross sheep that graze the Mendip Hills in South-West England. It's perfect for knitting colourwork, and lightweight yet warm garments, shawls, hats and mittens. 
100% pure British wool
50g (1.75 oz) / 180m (197 yd) per skein
2.75–3.25 mm needles / 27–30 sts per 10 cm / 4" gauge
Hand-wash only, and lay finished items flat to dry.
______
A note on the background of this yarn, as it is important to consider its environmental impact. The wool is sourced from an eco-farm less than 20 miles from where I live. Effectively the wool is a by-product, as the sheep are raised primarily for meat. They are part of a holistic management system to regenerate the soil where they graze, adding back nutrients to land that was previously dedicated to mining.
The wool is scoured, then spun at a small mill in Wales. There are no plastic fibres and no superwash process involved – this means that this yarn, and whatever is made from it, will biodegrade. I do use synthetic dyes, but always ensure that the dye is exhausted in the pots so none is returned into the water system.