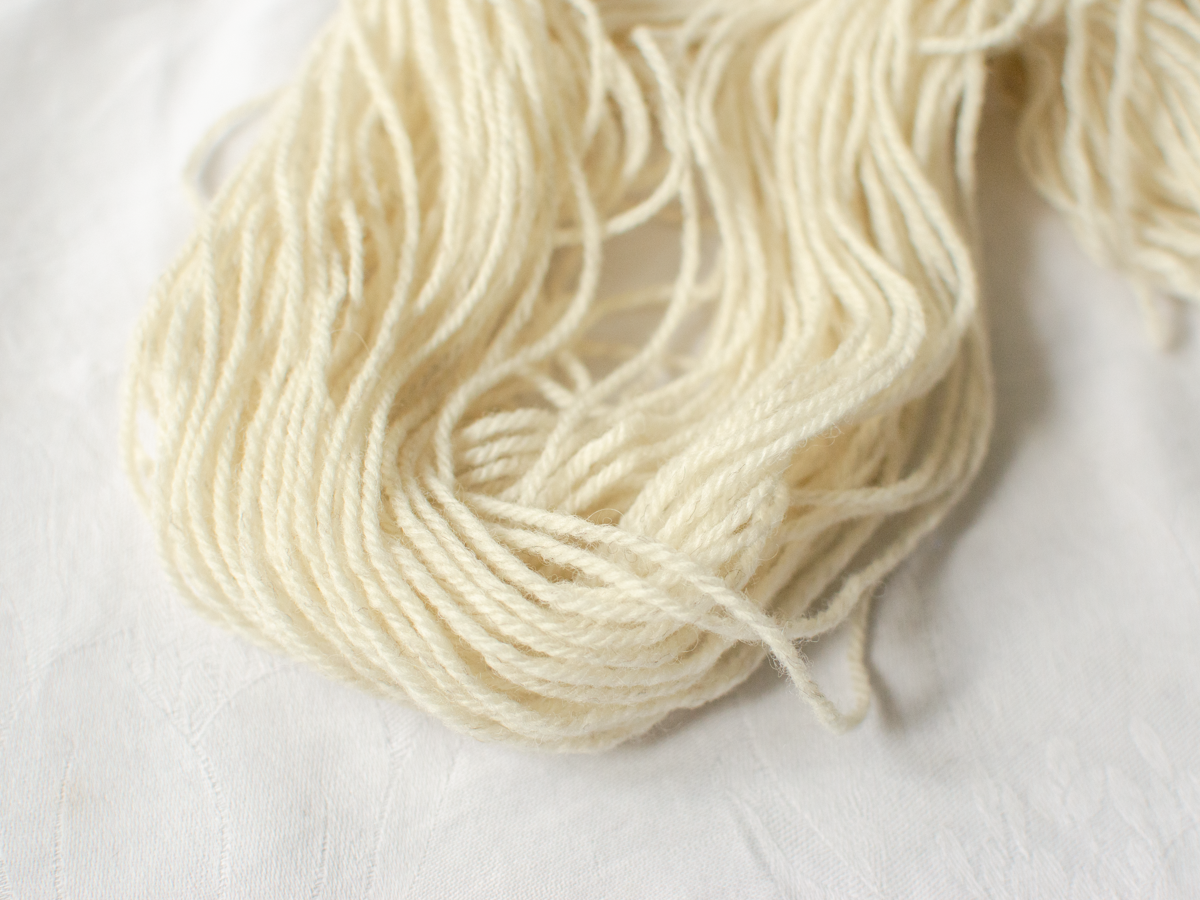 Mendip DK – Sheep (Sunny)
 Mendip DK is a bouncy, airy lambswool yarn, hand-dyed in a range of rich and subtle solid/semi-solid colours. The naturally grey base is spun from a blend of white and dark-coloured wool sourced from a single flock that grazes on top of the Mendip Hills in Somerset, UK. The wool is from the lambs' first shearing, meaning it's a lovely soft fibre, and the mix of coloured fleeces gives a lovely heathered, tweedy effect. 
Woollen-spun, 3-fold yarn
120 metres / 131 yards per 50g skein
Needle size: 3.25–4 mm
100% British wool from a mixed-breed flock (primarily Shetland-crosses)
The colours are all inspired by the landscape, and the flora and fauna found on and around the Mendips. Sheep is the naturally coloured, undyed yarn.
For the purposes of picking colours to combine for colourwork to ensure good contrast, the colours from light to dark (ignoring hue) go: Sheep, Bloom, Fern, Sage, Teal, Fox, Rose, Ore, Sky, Plum, Beech, Night, Coal. The further away from each other two colours are on this list, the more contrast there will be between them. There is almost no contrast between Fern, Sage and Teal, for example.
A note on the origins of this yarn:
The wool is sourced from an eco-farm in Somerset, England, that uses organic practices (though this wool isn't certified organic) and is spun up by a small mill in west Wales. So before the skeins are shipped out to you lovely customers, the wool has travelled around 300 miles during the production of the yarn.  
The dyes used are synthetic, for repeatability and colour-fastness. They are very low-toxicity (and non-toxic to the end user), and non-carcinogenic. None of the dyes used contain toxic metals. The water used to dye is recycled numerous times and all colour is exhausted completely before it is discarded in the garden.